Stevirox interviews Nigel Mogg - July 2003
Hi, Nigel, thanx for this interview....
Am i correct in saying you now live in LA. Tell us your view on LA in a few words!!?
Yes L.A. is home, its currently 105 degrees, so hot. But i do like it here, i lived in N.Y.C for 7 years, to crowded, you had to hustle for everything, a cab the train, here well you just go do stuff, just get your timing and miss the traffic and tour fine.
Are you now an official US citizen?
No i'm what's called a Resident Alien? Figure that out? Means that i'm married to a citizen, and if i'm a good boy and pay my taxes after a few years i can be a citizen, but i like still having my British passport.
You just got back to LA from NY, holiday? Or work – if so music or photography?
No i was in N.Y.C working, my friend makes T.V Commercials, i help him.
Can you expand a little on your photography?
I started taking pictures as a hobby, basically i was starting to travel and meet interesting people, while in the Quireboys in the late 80's and early 90's, and to tell you the truth i go crazy when i think of all the stuff i missed, i wished i'd picked it up earlier, then i'd have some Johhny Thunders and Razzle from Hanio, or Stiv Bators shots, stuff we can't go back and get again!!!
How serious is it? Is it all linked to the music industry? (I know you took some pictures for the inlay card of the last Qb's CD) Is it true you had photographic involvement with other bands CDs?
I have always said that when i hang that bass up i'd love just to take pictures of bands all day, but i actually worked for a while with fashion photographers in N.Y.C when i lived there so fashion also interests me.I did a picture of Evan that was used on the front and inside of a single in the U.K called "if i could talk i'd tell you" from the CD "car button cloth". I went to Portland and shot the Dandy Warhols, it was used for all their ads for "bohemien" CD, I went there for a week, and have never seen so many drugs consumed, all on the photo budget? And i'm shooting a band called The Shore next week, they just got signed to Maverick records, they sound great a cross between The Black Crowes and The Verve, see i only like to shoot bands that sound good i guess this is not that good for business as there's tons of crappy bands out there and not to many good ones?????
What equipment do you own/use? Do you have your own darkroom?
I use an old Canon AE1, (1976) its very beat up, its my 2nd, and i need another, i print pretty good B/W but don't have a darkroom right now.
I see you took the one on planet Bubble, do you hang out?
Bubble are very good friends, of course I've known Bam from old days "85?????
During the period away from the Qb's, did you play with any other musicians? Nearly join or form any other bands? I see you were in a band called Nancy Boy, tell us a bit about that? It looks quite a bit different to the Qb's…?
After the Quireboys broke up I found myself in L.A, met a guy called Donovan Lietch. He wanted to start a new wave band called Nancy Boy, it was as far away from what i'd been doing in recent years and i jumped on it. We got an indie deal within a month, played all round the East Coast, wined and dined with all the Stars, moved to New York were i ended up doing some modeling myself (donovan was already a model). I even did a few fashion shows as well as a Calvin Klien print and T.V commercial. This is the period i got a lot of great pictures, Liv Tyler, Kate Moss ,Vinny Gallo, Joe Stummer, Evan the Dandys, lots of Beasty Boys stuff.......
I've read some info on the official Quireboys website about you guys getting back together. It sounds so simple, Spike met Griff while touring with Glimmer in LA, wrote some songs, you came along & the Qb's got back together!! Can you expand on that or add anything to the story?
The whole QBs getting back together is quite funny. See before Nancy Boy i was in a band with Guy Griffin, called 'Blood from a stone" i quit that to do Nancy Boys, so me and Guy always stayed in touch, so Guy went on to do Glimmer with Martin Henderson and Luke Bossendorfer, and i would see Spike when i went back to the U.K. Guy Bailey by the way nobody see's? So we all new what each other was doing and their phone numbers etc… so spike comes to L.A to do some solo stuff, i hear it, it sounds great & we hang out. He goes back to the U.K with it, plays it to a couple of labels, one label Sanctuary hears it, loves it, but says we would sign something like this if it was the QBs...... So Spike gets me on the phone and tells me that he told the Label it was the QBs and basically blagged us a deal without us even being together, so that's how we got back together. Spike just called me & told me we had a deal, he asks "do i want to do it", i said "what time does the plane leave", we added some more Gray/Griffin compositions and so was born "This is Rock'n'Roll....."
'This is Rock n Roll…. Is 2 years old now, any thoughts on how well that CD came out?
I think its one of the best records I've played on and the way it was recorded is the closest to what the band really sounds like, i mean i wish "a bit of what you fancy' sounded like the last record, but ahh you live and learn......
I was at the Garage gig on the 19th July 01, where those gigs just one offs or had you already planned a UK tour later in the year? You all looked very content onstage!!! Was it as much fun up there as it was for us in the crowd singing along to all the old favourites?
That garage gig did it for me, when Spike told me about the deal with Sanctuary, i was alright, but will anybody be interested??? well i think the record was the one we were always meant to make and then the 1st gig after all those years was the Garage, well i couldn't believe the response - shock, and then we had to do it the next nite too, well blow me down.
Do you enjoy playing the old tunes more or the new ones? Any chance of Mayfair being added to future set lists?
Love the old and the new, makes for a great set. Mayfair why not.
Did you enjoy your own headline tour in 01 or the Monsters tour more?
Loved both tours small large, just love to play, but as i said you couldn't beat the bill on Monsters.
How does it work musically? I see Spike & Griff are credited with writing most of the songs (as was Spike & Bailey) How much input do you & the other band members contribute to the songs, music – arrangements etc? I see you were all involved in the production...
Song writing; well it used to be Spike and Guy Bailey, of course when we got back together to do "This is R'n'R" Bailey was not involved, so it was Guy Griffin and Spike. Me - well i take what they do and tell them what's cool and what maybe sounds a bit pushed, forced, or not QBs enough Plus of course i did all the art work, as a side line i got a friend of mine Marlon Richards (son of Keef) to help me with it and me and him came up with the lay out for the "This is R'N'R" cover and CD booklet. I did all the pictures except the Band shot and the solo shots, and all the collage is mine of us making the record, did anyone notice the picture of Ronnie Lane on the mixing desk, i got that out of rolling stone and put it there for inspiration. Well every one always said we ripped them off! well maybe a couple of songs are close, but we got just as much Stones, AC/DC, Free, etc etc.... And the production, well after all these years it would be hard for us to listen to anyone as to what we should sound like, its not rocket science is it.....
A lot has been made of the time it took & the production on the 'bitter sweet twisted' Lp… (personally I remember at the time looking forward to the LP being a bit rougher - less produced than 'a bit of what you fancy'. A sound you managed perfectly on 'this is R n R') Looking back now, do you have any regrets or feelings of how things turned out back then? (OR) Do you just think 'hey we've made some good music & entertained a lot of people….'?
That whole Bitter Sweet & Twisted... thing leaves, well a bitter taste (sorry, couldn't help it )in your mouth. Someone - be it Sharon Osbourne, or the guys at the label insisted we use Bob Rock to produce the record. Well all was well until he said he was busy for another 9 months, so we wait, and then we go to Vancover and we spend 3 months there, spending way to much (of our own) money. Then the record comes out another 6 months later and there goes 2 years, and people are buying Nirvana and Manics records and Sharon drops us and our A & R man leaves... should i go on, i don't think many bands could survive that!!!!!!!
Obvious one this…. Any chance of a new studio Lp? Is it true you recorded some of the Monsters shows for a live CD?
Well a new studio record, i should think we could knock one out pretty quick, we have access to our own studio, but have no deal right now. So we have this live record out on August 4th on Demolition records to tide us over until we figure out the details of releasing our own records or going after another deal. As Sanctuary, who put out the last record didn't want to do another, which is a nice way of saying your dropped mate... so after we got that message we all went back to doing other stuff for a while. Then Spike gets us the Monsters of Rock thing which was one of the best line ups i've seen for a long time, and its all on again, so we do the live thing (we recorded that at a bunch of different Monsters gigs and the Marquee) and the guy that's putting out Spikes solo record tells us he'd love to put out a live C.D and later hopefully a live D.V.D (which is the whole Marquee show).
If I can just go back to the early days, What were you up to before the Qb's? And if you could tell us a little bit on the music you grew up with? And how you came to play bass? That would mean you have been on all the Qb's recordings?
Well before the Qbs i was in a couple of bands. The one right before was called "the Killer Elite" it was me, Mick Cripps (who went back home to L.A shortly after to start his own band L.A Guns, and funnily enough is still a good friend, i was at his house today) and Adam Ross (brother of Jonathan Ross, who was at one time gonna manage the band instead decided to go into T.V? silly really????). But when Mick went back to L.A i met Guy and Spike, pretty soon after I joined the band. As to what music i was into, well obviously U.F.O was a big influence as Phil Mogg is my Uncle, so of course Pete Way was the man in my book hence the adoption of the Thunderbird bass, i had one of Pete bass's for a long time until Phil from Tank informed me that Pete had actually sold it too him 6 months previous, i had it for 9 months?????? Plus i used to love the Damned, i must have seen them 20 times and later on Hanoi Rocks was the ticket. Razzle used to live up the road from me when i was 13, 14 something like that. He would walk around Muswell Hill and had different colour hair every week, then i started seeing him at the Damned shows, (see i wish i'd had my camera back then) As i mentioned before they started the band and Chris Johnstone was the original Bass player, he left the band and they got me, of course he later rejoined the band as the keyboard player, so yes I've been on all the recordings.
I just got my 12inch Mayfair out(!)… And am looking at the great photos on the back… Such big hair… Do you own a copy of Mayfair? If so, the very middle picture, is that taken down stairs in the 'garlic shots'? I have mates in London who I visit regularly & we frequent there, the Intrepid Fox & Decadence… we have a great time!!! How do you find it in London & the UK in general when you visit? Do you get nostalgic visiting London??
I do still have my Mayfair 12 inch, and those are my pictures on the back i think the one your talking about is the rather small dressing room of the old Marquee on Wardour St. I love going back and have often taken strolls round the old haunts, a lot aren't there anymore so don't go looking for them.
Where are some of your favourite places you have visited on all your travels? & why?
Japans a trip, Icelands even weirder, met some great folks in Ireland, drank a lot of Guiness there went to Australia with Nancy Boy, beautiful place, shame about the geezers but the sheilas, wow… Lived in N.Y.C for many years and that tops the lot for any decadance, what do you expect when bars stay open till 4 am??? but that's were i meet a lot of people, Keef Richards, Liv Tyler, Vinny Gallo, Ad rock from the Beastie Boys, the Dandy Warhols, Evan Dando, the list goes on.
Are there any stories you can pass on about your early touring days? How friendly were you with other bands, ie the Dogs, Crybabies etc Or when you where playing with the likes of G n R?
The early touring days were a blur, we had no record deal, would travel around in a transit van eat at those motorway sevice stations, stay at peoples houses, all the normal stuff, then we had Ginger in the band. Then we met Guns 'n' Roses, and then we opened for them, and Johnny Thunders and we were off.... we went to L.A. to do our 1st record... the rest is history. We always played all the same places the Dogs did and hung out at the same clubs they did, in fact we even shared a drummer, the world Famous Mr Paul Hornby, its his voice making the threatening phone call to Spike at the beginning of "this is R'N'R" he was pissed of with us after a fight at the viper room in L.A. while we were recording the record, so we put it at the beginning to piss him off , of course he doesn't remember making the call?? And Darrel well known him for years too, didn't Spike do something with him? Playing with G'N'R was a trip, we did a whole leg of "use your illusion" European tour, they were some of the best gigs i'd ever seen, huge football stadiums, mad but we actually met them years before at the old Marquee Wardour St. We'd been playing every Friday nite in June '87, they played a Saturday and Sunday and came by the club to check it out on the Friday, i ended up going back to there hotel and partied all nite with them, yes even Axl, he was a little shy, the others were a lot drunker. On the Sunday we met them in the Intrepid Fox for a drink, Slash was wasted already, i was with Spike and my Uncle Phil from U.F.O. I think Slash was a big Schenker fan, but instead of coming up to Phil and Saying Hi, he just wobbled over grabbed Phil's Drink out of his hand swigged it down and broke the glass on his forehead… Well as you can imagine we were in shock, and Phil whose well handy in a fight was gonna kill him, a roadie made apologies and lead him away with a little trickle of blood running down his forehead, strange, did a great show that same nite though, i think Phil refused to go.
I loved the Dirt by M Crue, have you read it? What do you think? Having thought about it & talked to mates, we can't understand how they can remember so much if they were so wasted!? Did you guys loose many nights/days?
I did read the Motley book, and just reading it you can tell everythings blown up 10x what really happened, you've seen Tommy Lee in interveiws everythings like exaggerated, still it made a good read!!!!!!! Hasn't everybody lost a few days, i've done my share of missing time....
Thing I noticed while doin a little bit of research into this… the Quireboys have had quite a few different drummers!? (spinal tap!)
Again something about drummers, that's why that bits in Spinal tap, there either mad, drunks or liars, and if your unlucky all 3.
Do you have a drummer in place for the festival dates & UK tour you have planned?
Jason Bonham i think is gonna do the next batch of shows, he did the Monsters gigs and is on the live CD, and we have 2 weeks of shows in September, the dates should be on our web site by now.
The Serie Z in Spain – last year was fantastic with Hanoi Rocks etc…? Do you know much about this festival?
Don't now much about Spain, but they really wanted us, so we booked that and the U.K. gigs start the next day at Rock city , Nottingham, ending in London on 14th Sept...
Do you listen to much rock, or other music?
Been listening to the band Interpol today, like that, i'm a big Supergrass fan, have heard the Datsuns its good, and i like Soundtracks of our lives, and really love that new White Stipes record, just got a CD from Canada, band called Crash Kelly, some guy e-mailed me through my photography site (www.NigelMogg.com, check it out people) to maybe shoot him and he sends me his C.D, sounds like Girls 1st record (Phil Lewis from L.A. guns and Phil Colen from Def Leppard - 1st band) and Hanio Rocks very nice, plus a new band in L.A called Grande Marque.....
OK, I've taken up enough of your time… I better send this cos every time I read thru it, I think of more questions.....! thanx...
Well i hope thats enough, thanks for the more interesting of interviews, cheers Nigel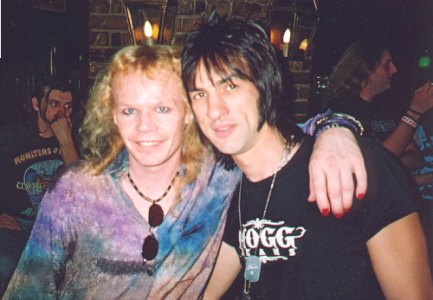 me n Nigel at Worlds End Pub B4 the gig at The Underworld London - 14 Sept 03

NEW LIVE QUIREBOYS CD out on August 4th on Demolition records.

interview copyright of stevirox, please ask permission of me or NM to reproduce any of it!!!